1. The Chinese Communist Party's Ambition to Replace the US and Dominate the World
a. The CCP Has Always Aimed for World Domination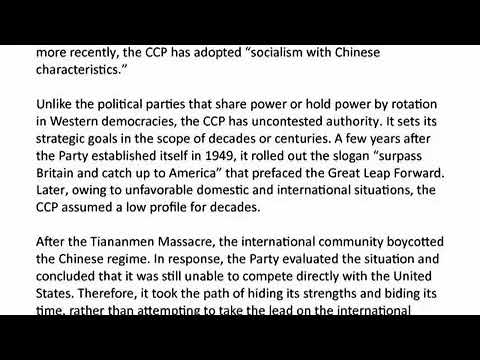 The CCP is not satisfied with being a regional power. It wants to control the world. This is determined by the Party's inbuilt characteristic of tyranny. By its very nature, the Communist Party opposes heaven, earth, and tradition; it resorts to violence to smash the "old world" and aims to destroy all states, nations, and classes with the feigned goal of "liberating all humanity." Its unchanging mission is one of constant expansion until the world is united under communist ideology. Its doctrines and practice are by definition globalist.
But because traditional culture was once quite powerful, communism has at times had to adopt a gradual and roundabout approach. In the Soviet Union, Stalin claimed the need for "socialism in one country;" more recently, the CCP has adopted "socialism with Chinese characteristics."
Unlike the political parties that share power or hold power by rotation in Western democracies, the CCP has uncontested authority. It sets its strategic goals in the scope of decades or centuries. A few years after the Party established itself in 1949, it rolled out the slogan "surpass Britain and catch up to America" that prefaced the Great Leap Forward. Later, owing to unfavorable domestic and international situations, the CCP assumed a low profile for decades.
After the Tiananmen Massacre, the international community boycotted the Chinese regime. In response, the Party evaluated the situation and concluded that it was still unable to compete directly with the United States. Therefore, it took the path of hiding its strengths and biding its time, rather than attempting to take the lead on the international stage. This was not because the CCP had changed its goals, but because it adopts different strategies according to the circumstances in its struggle to ultimately establish world hegemony.
It can be said that the communist specter used the ancient Chinese strategic feint of "openly repairing the plank roads while secretly advancing via the hidden route of Chencang." The first communist superpower was the Soviet Union, but its ultimate role ended up being to aid the rise and maturation of the Chinese communist regime.