1. The Chinese Communist Party's Ambition to Replace the US and Dominate the World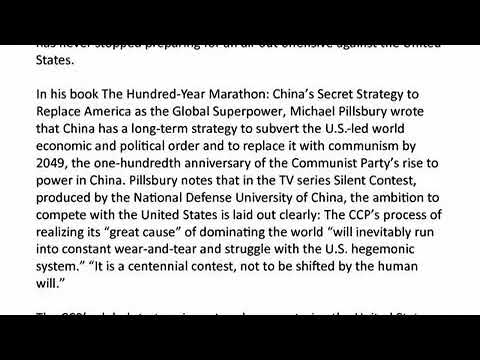 b. World Domination Requires Defeating the United States
Since World War I, the United States has been the most powerful country on earth and serves to maintain international order. Any country that wants to overturn this order must bring down the United States, so in terms of overall strategic considerations, America is the CCP's main enemy. This has been the case for decades, and the Party has never stopped preparing for an all-out offensive against the United States.
In his book The Hundred-Year Marathon: China's Secret Strategy to Replace America as the Global Superpower, Michael Pillsbury wrote that China has a long-term strategy to subvert the U.S.-led world economic and political order and to replace it with communism by 2049, the one-hundredth anniversary of the Communist Party's rise to power in China. Pillsbury notes that in the TV series Silent Contest, produced by the National Defense University of China, the ambition to compete with the United States is laid out clearly: The CCP's process of realizing its "great cause" of dominating the world "will inevitably run into constant wear-and-tear and struggle with the U.S. hegemonic system." "It is a centennial contest, not to be shifted by the human will." [2]
The CCP's global strategy is centered on countering the United States. Arthur Waldron, a professor at the University of Pennsylvania and a China expert, stated at a Senate hearing in 2004 that the Chinese People's Liberation Army is the only army in the world that is dedicated for anti-U.S. operations. [3] In fact, apart from the PLA, most of the CCP's diplomatic relations and international activities have the United States as their direct or indirect target.