1. The CCP's Ambition to Replace the US and Dominate the World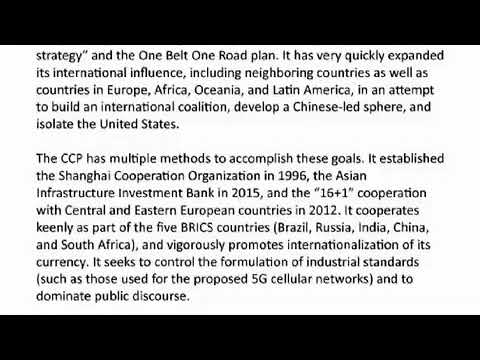 c. The CCP Has a Multi-Pronged Strategy to Subvert and Contain the United States
The CCP has taken a comprehensive approach toward succeeding in its attempt to dominate the world. In ideology, it competes with the United States and other countries where there is freedom and democracy. It uses forced technology transfers and intellectual-property theft to close the tech gap and boost its economic confidence. Militarily, it engages in a silent rivalry against the United States by means of asymmetrical and "unrestricted warfare" in places like the South China Sea. It backs North Korea, Iran, and other rogue regimes to impede the United States and NATO.
In diplomacy, the CCP regime has promoted its "great peripheral strategy" and the One Belt, One Road plan. It has very quickly expanded its international influence, including neighboring countries as well as countries in Europe, Africa, Oceania, and Latin America, in an attempt to build an international coalition, develop a Chinese-led sphere, and isolate the United States.
The CCP has multiple methods to accomplish these goals. It established the Shanghai Cooperation Organization in 1996, the Asian Infrastructure Investment Bank in 2015, and the "16+1" cooperation with Central and Eastern European countries in 2012. It cooperates keenly as part of the five BRICS countries (Brazil, Russia, India, China, and South Africa), and vigorously promotes internationalization of its currency. It seeks to control the formulation of industrial standards (such as those used for the proposed 5G cellular networks) and to dominate public discourse.
The CCP regime has taken advantage of the democracy and freedom of the press that exist in the United States and other Western countries to carry out united front operations, spread propaganda, and engage in espionage. This is its attempt to manipulate the United States as much as possible and impose bloodless change from within.
Using these tactics, CCP agents bribe U.S. government officials, congressmen, diplomats, and retired military officers. The Party uses economic interests to guide American capitalists to lobby for the Chinese communists and to influence U.S. policy on China. It forces high-tech companies to cooperate with the CCP's internet censorship and Great Firewall, coerces and incentivizes many in the overseas Chinese communities to serve as fifth columnists, and infiltrates Western think tanks and academic departments. It manipulates these institutions into exercising self-censorship on sensitive topics, effectively adopting the stand of the Communist Party. Chinese companies, which are controlled or influenced by the CCP, have been investing heavily in Hollywood.
While developing its influence in various countries to envelop and contain the United States on one hand, on the other, it establishes hidden strongholds on American soil so that it can undermine the United States from within. It has built an extensive network of agents and has fostered splits in U.S. society, posing a serious internal threat.